Eufora Volume Daily Balance Conditioner 8.5 oz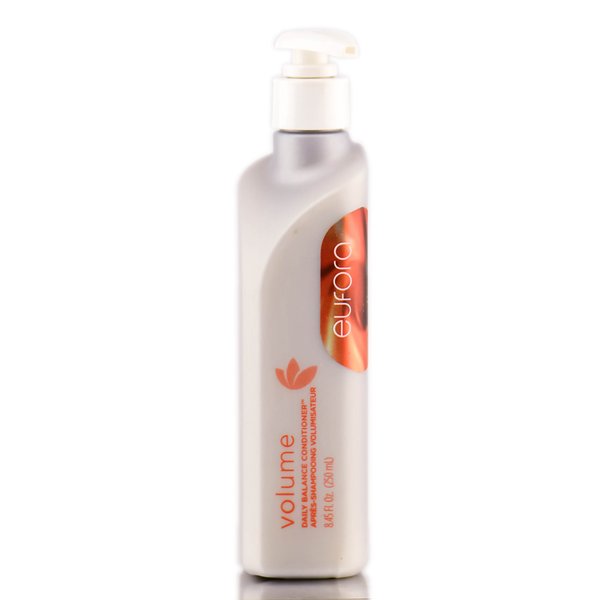 Eufora Volume Daily Balance Conditioner 8.5 oz
DAILY BALANCE CONDITIONER
Zero-weight, bodifying conditioner. Protein, vitamin and botanical technology moisturizes hair, adds body and manageability without adding weight.

BOOSTING TIPS AND TRICKS FOR VOLUMINOUS, SEXY HAIR:
1. Cleanse hair well; scalp oils and product build-up weighs thin hair down which makes long-lasting volume a challenge.
2. Apply root lifting products mid-way through blow dry, not on soaking wet hair.
3. Don't pass up on the conditioner. A good bodifying conditioner restores protein and creates thicker, fuller hair.
4. Dry your hair upside down. A surefire way to add volume is by allowing gravity to lift the roots of your hair away from the scalp, enabling you to brush through your hair without flattening it.
5. Change-up your part! If your hair naturally lies flat once it settles in its normal parting, give it an instant lift by simply changing the parting placement. Whether it's straight down the middle, a dramatic side parting, or even a zig-zag, one quick fix can give your hair the best boost ever!

EUFORA PRODUCTS DO NOT CONTAIN:
Artificial Colorants, Aromas, Sodium Chloride, Parabens, Phthalates, Gluten, Mineral Oil, Petrolatum, Propylene Glycol, Formaldehyde

*All Eufora products are safe for color treated hair.