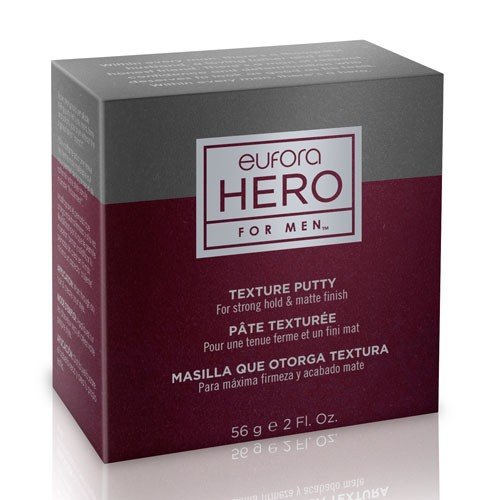 Hero Texture Putty 2 oz
PRODUCT DESCRIPTION:
This super strong hold yet pliable styling putty let's you mold, form and solidify your style without the slightest bit of "crunch". Creates matte finish and is perfect for all of today's contemporary hairstyles. Eufora's ProAmino Peptide Complex™ provides a "wear-in" treatment benefit for healthier hair and scalp.

HOW IT WORKS FOR GREAT RESULTS:
Apply to dry hair to mold and sculpt your style. Pliable hold lets you re-work hair throughout the day.

UNIQUE FEATURES AND BENEFITS:
• No petrolatum & no mineral oil – washes off hands and out of hair easily and won't cause build-up or clogged hair follicles
• Safflower and Olive technology soften and moisturize hair
• Vitamin E, Neem Seed Oil, Licorice Root Extract and Avocado contribute to "wear-in" treatment benefits for healthy hair and scalp
• Coenzyme Q10 provides antioxidant protection against harmful free radicals and environmental factors
• Unique blend of scalp health ingredients inhibits 5-alpha reductase (an enzyme responsible for pre-mature hair loss) and protects and repairs the hair follicle to help fight aging and slow hair loss
• Essential oil fragrance
• No artificial colorants, fragrances or parabens

SIZES:
2 oz.