Eufora Powder Lift 0.75 oz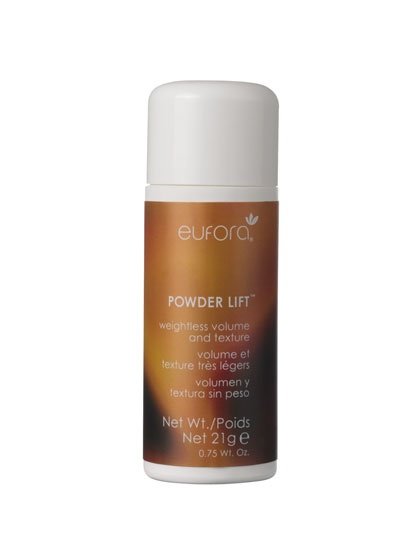 Eufora Powder Lift 0.75 oz
PRODUCT OVERVIEW:
A little sparkle - a lot of lift. Powder Lift™ is a unique, weightless, volumizing solution. This liquid powder provides a unique way to achieve instantly thicker, fuller hair and lift at the scalp that lasts all day.

WHAT IT DOES:
Powder Lift™ utilizes unique technology that turns liquid into powder then back into liquid during use. Provides great lift at the root while leaving hair feeling and looking thicker and fuller. Absorbs excess oil from the hair.

KEY INGREDIENTS:
• Aloe Vera provides important nutrients, essential amino acids, moisture and legendary rejuvenation benefits necessary for optimum scalp and hair health
• Ionic Repulsion thickens hair and delivers a light weight, natural feeling texture
• Soy Protein enhances hair strength and manageability. Provides body and texture
• Panthenol improves hair condition without weight
• Silica Silylate (derived from sand) provides excellent oil absorption and texture
• Malt Dextrin (Starch) provides conditioning benefits

No Artificial Colorants, Aromas, Sulfates, Sodium Chloride, Parabens, Phthalates, Gluten, Mineral Oil, Propylene Glycol, Formaldehyde

APPLICATION:
SHAKE into hands, rub together and rake fingers through dry hair to achieve a thicker, fuller look. SPRINKLE directly onto dry roots and massage with fingers for lift and volume. Use to FRESHEN UP 2nd day hair and absorb excess oil.

BLENDING NOTES:
Blend with any EuforaStyle product for added texture, volume and separation.

SIZE:
.68 oz.