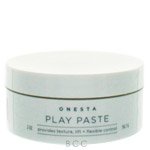 Onesta Play Paste 2z
What it is:
Onesta Play Paste is an organic styling paste that provides exceptional hold and protection to your locks and frills.
What it does
This play paste is richly infused with Beeswax and the moisturizing properties of Sesame and Macadamia Nut Oil to deliver a moderate to strong hold with a gentle, soft touch.
What else you need to know:
Texture, lift and separation are instantly improved, giving your hair manageability and natural shine.