Eufora Piece Works Defining Paste 3 oz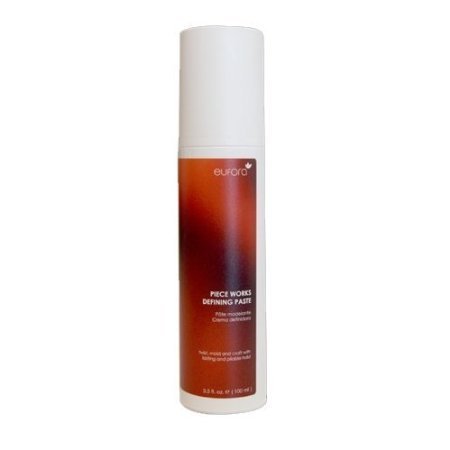 Eufora Piece Works Defining Paste 3 oz
PRODUCT OVERVIEW:
An innovative and creative styling product that provides a pliable hold with strong, lasting control.

WHAT IT DOES:
Unique, creamy fiber paste is perfect for artistic styling for all long and short hair styles. Creates definition, builds texture and shape. Adds dimension to layers and tames frizz to provide a re-workable, pliable and strong hold.

KEY INGREDIENTS:
• Aloe Vera provides important nutrients, essential amino acids, moisture and legendary rejuvenation benefits necessary for optimum scalp and hair health
• Vegetable waxes, extracts and seed oils for control and shine. Includes Castor Oil, Carnauba Wax and Tapioca Starch
• Human Hair Keratin and Vegetable protein blends including Soy, provide healthy hair benefits
• Botanical extracts and vitamins including Honeysuckle, Passion Flower, Lemon, Horsetail, Chamomile, Henna, Nettle and Panthenol provides strength, shine and promotes scalp health
• Antioxidant Rich! A derivative of the Litchi Berry, prevents damage to hair by neutralizing free radicals and damage from UVA and UVB rays
• Essential oil blend for an aromatherapy experience

No Artificial Colorants, Aromas, Sulfates, Sodium Chloride, Parabens, Phthalates, Gluten, Mineral Oil, Propylene Glycol, Formaldehyde

APPLICATION:
Use on wet or dry hair to shape, define and craft.

BLENDING NOTES:
Blend with Curl'n Defining Solution for increased control for curly hair.