Eufora Nourish Urgent Repair Treatment 6 oz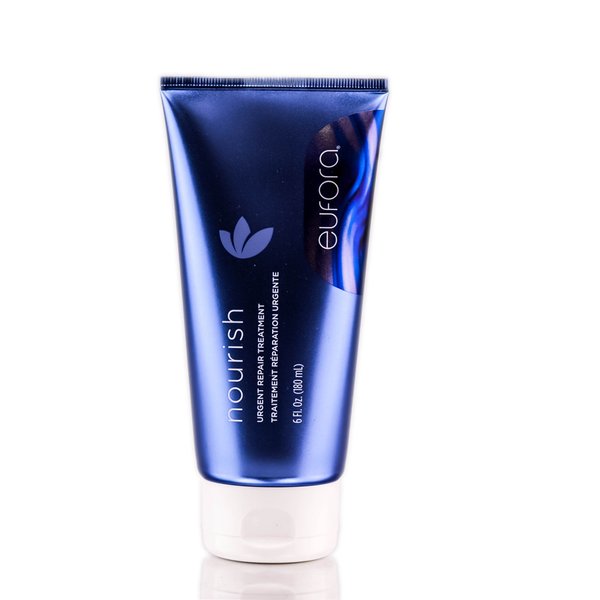 Eufora Nourish Urgent Repair Treatment 6 oz
Urgent Repair Treatment
Intensive protein-rich restructuring and replenishing treatment, restores moisture, and vitality to dry, stressed and damaged hair. Helps soothe scalp and skin irritations. Extracts of Menthol and Camphor work to stimulate circulation to promote a healthy scalp environment.
(2oz., 6oz., 80oz.)

For Treatment Benefits:
Apply a liberal amount to freshly cleansed hair. Leave on for up to 15 minutes. For maximum benefit wrap head in plastic and apply external heat.

Daily Use:
Can be used on a daily basis to rejuvenate extremely damaged hair. Apply a quarter size amount and leave on for 3-5 minutes. Rinse with cooler water. Can also be used to soothe skin irritations.

The Eufora Nourish Promise delivers the tender loving care your hair needs to look and feel its best.

Hair relies on natural oils produced by the root for moisture, and a healthy, nourished scalp is the foundation for beautiful hair. When hair lacks moisture it not only feels dry and lacks shine, it also loses elasticity, making it appear lifeless and prone to breakage and split ends.

Specifically formulated to replenish thirsty hair starved for attention, the Eufora Nourish Promise combats daily assault from environmental stress, aggressive styling practices, and chemical services, delivering TLC to hair and scalp through a unique blend of proteins, vitamins, natural oils and plant extracts.

Eufora Products Do Not Contain:
Artificial Colorants, Aromas, Sodium Chloride, Parabens, Phthalates, Gluten, Mineral Oil, Petrolatum, Propylene Glycol, Formaldehyde
*All Eufora products are safe for color treated hair.