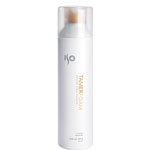 Iso Tamer Foam 7 oz
Tamer Foam
Description:

A smoothing foam gel formulated with guar gum and ISO's patented ISOamine to soften the hair's bonds for smoother combing, frizz control and long-lasting straightening.

Designed for:

Unruly, frizzy hair Natural or textured curly hair

Benefits:

Controls frizz and enables smooth combing
Offers long-lasting straightening
Gives hair a sleek finish

Use:

Dispense a generous amount into palm, work through hair and comb smooth. Blow-dry using a round brush and moderate tension.

Ingredients:

ISOamine and Guar Gum: Soften internal bonds of hair for smoother combing and long-lasting straightening.
Amino Silicone: Smoothes hair and provides long-lasting conditioning without buildup.
Wheat Protein: Penetrates the cuticle and helps improve the condition and styling potential of hair.
Panthenol (vitamin B): Moisturizes and nourishes the hair.
Humectants: Balance the moisture levels in the hair.