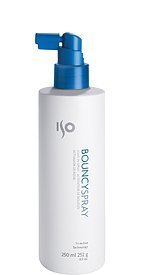 Iso Bouncy Spray 8.5 oz
Description:
This lightweight wave and curl reactivator contains an exclusive blend of polymers that supports weighless curl revival, provides memory for curls and adds medium hold.
Designed for:
Textured hair Naturally curly hair
Benefits:
Separates and defines curls
Puts spring back into limp curls
Provides long-lasting medium hold
Use:
Apply to damp or towel-dried hair; scrunch while air-drying or blow-dry with a diffuser. Can also apply to dry curls to rectivate.
Ingredients:
Humectants: Moisturize hair without weighing down curls.
Lightweight Conditioners: Smooth curls and prevent flyaways.
Curl Memory Polymers and Fixatives: Provide flexible, lasting hold for "Bounce-Back" curls with optimum hold and control.