Enjoy Intensive Reconstructing Spray 10 oz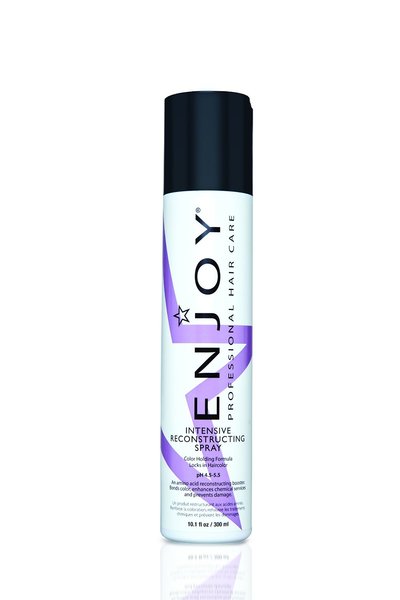 Enjoy Intensive Reconstructing Spray 10 oz
AMINO ACID FORMULA: An amino acid reconstructing booster to be used with ENJOY Instant Reconstructor or ENJOY Hair Mask, making them a minimum of 10x stronger; use once a week as needed to recondition distressed, weak or over-processed hair; bonds color, enhances chemical services and prevents further damage.
MOISTURIZING: Intensive Reconstructing Spray amino acid system delivers intense moisturization and includes calming anti-frizz benefits without weighing hair down; this advanced smoothing system cleanses and helps tame unruly, frizzy hair, leaving it smooth and soft.
COLOR SAFE: Color safe formula for all hair types; for color treated hair; the anti-fade system for long-lasting color purity; protective formulas that help preserve and maintain color brilliance; color-treated hair requires special care.
SULFATE FREE: Sulfate-free, Intensive Reconstructing Spray for color treated hair infused with refreshing ingredients; this hair restoration system softens and adds shine while also fighting split ends.
HAIR REVITALIZATION: Repair, restore, and revitalize your hair with the ENJOY Intensive Reconstructing Spray; it deeply conditions, hydrates, and moisturizes hair giving it a soft and silky texture; plus it strengthens weak, damaged, and over-processed hair.