Enjoy Clarifying Spray 10 oz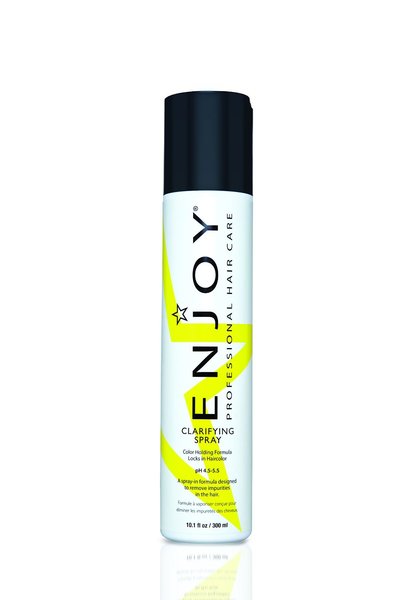 Enjoy Clarifying Spray 10 oz
Color safe for all hair types
Designed to remove mineral deposits
One of a kind spray-in clarifying formula
CLARIFYING: Clarifying Spray cleanses hair and removes blockers to lightweight, smooth, soft hair; gives the hair extra moisture, detangling, and protection it needs; excellent for softness and frizz control.
MOISTURIZING: Hair Clarifying Spray delivers intense moisturization and includes calming anti-frizz benefits without weighing hair down; this advanced smoothing system cleanses and helps tame unruly, frizzy hair, leaving it smooth and soft.
COLOR SAFE: Color safe formula for all hair types; for color treated hair; the anti-fade system for long-lasting color purity; protective formulas that help preserve and maintain color brilliance; color-treated hair requires special care.
CLEANSE SENSOR: Utilizes advanced cleanse sensor technology, which can help color treated hair by infusing refreshing ingredients; this hydrating factors soften and add shine while also fighting split ends.
ADVANCED TECHNOLOGY: Repair, restore, and revitalize your hair with the ENJOY Clarifying Spray; it deeply conditions, hydrates, and moisturizes hair giving it a soft and silky texture; Ingredients include water, glycerin, sodium lauroyl sarco, PPG-2-Isodeceth-12, disodium EDTA, diazolidinyl urea, methylparaben, propylparaben, Fragrance.