Eufora Elevate Finishing Spray 2 oz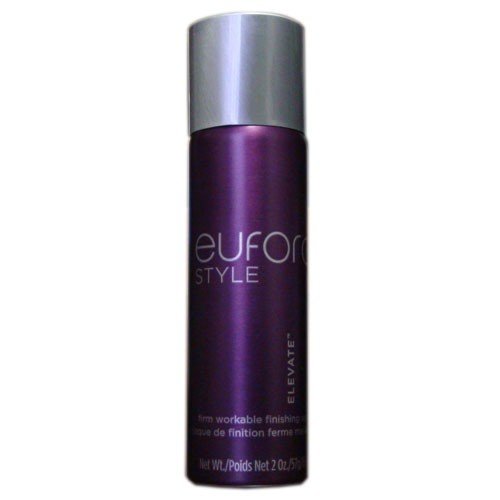 Eufora Elevate Finishing Spray 2 oz
PRODUCT OVERVIEW:
An award winning, firm, yet workable finishing spray. Leaves hair moveable and touchable without stiff or sticky feel.

WHAT IT DOES:
Medium to firm hold with ingredients to help improve the health of the hair. Protects color from fading and meets the strictest environmental standards.

KEY INGREDIENTS:
• Aloe Vera provides important nutrients, essential amino acids, moisture and legendary rejuvenation benefits necessary for optimum scalp and hair health
• Botanical extract blend of Chamomile, Horsetail, Nettle and Henna provides strength, shine and promotes scalp health
• Sun protection to prevent damage caused by UVA and UVB rays
• 55 VOC formula with no CFCs (Chlorofluorocarbons)
• Essential oil blend for an aromatherapy experience

No Artificial Colorants, Aromas, Sulfates, Sodium Chloride, Parabens, Phthalates, Gluten, Mineral Oil, Propylene Glycol, Formaldehyde

APPLICATION:
Hold 6 – 8 inches away from hair and spray a fine mist. Layer for added control. Reapply as needed without flaking, crunch or buildup.

SIZE:
2 oz. • 10 oz.

Voted "Best Finishing Spray" by the Readers of Salon Magazine.